Want To Know What Blinds To Choose?
You may be thinking what's the best blind to install when moving into a new home or settling into a new office.
Blinds can provide a ton of benefits when it comes to its functions and interior design because of its slim profile and controllable functions.
However, you may be wondering which type of blinds would be the most suitable for the rooms you have when it comes to:
sunlight
heat
privacy control
maintenance and more..
In this post, you will find out the various pros and cons of the different blinds we offer. This is a long post so do check out the table of contents above to skip to the section you want!
Types of Window Blind
For window furnishings, there are currently a few types of common blinds:
Venetian Blinds
Roller Blinds
Perforated Roller Blinds
Korean Blinds
Roman Blinds
Vertical Blinds
Zip Track Blinds
Common Features of Window Blinds
The basic features of blinds are about the same as window curtains. They are meant to:
Block out or black out the environment
Control light
Control privacy
Provide air circulation
Match your home's interior design
General Pros & Cons Of Window Blinds
Blinds Advantages
Great in light control
High privacy control
Multiple options for modern minimalist styled homes
Some blinds are easy to maintain & clean
Doesn't collect much dust mites
Suitable for small rooms or tight spaces
Lean profile for tight spaces
Can be easy to operate
Helps to reduce heat in the room
Blinds Disadvantages
Less efficient in reducing heat compared to curtains
Some type of blinds are more susceptible to damage when operated the wrong way
Blind cord can become a hazard for young children and pets
Can be more expensive due to mechanisms required to produce and operate
Some blinds can be difficult to clean
Lesser variety compared to curtains
Can be noisy when wind blows and blinds hit your window rails
Have to split up blinds when windows are big otherwise will be too heavy to operate leading to damage over time
Space between multiple blind brackets will lead to light leaks
Not suitable for rooms with curved windows
Pros & Cons of Venetian Blinds
Advantages of PVC Venetian Blinds
90-95% block out for light (dim out blind)
Control and filter light by adjusting slat angles
Control entire blind by pulling it up so you get perfect view of what's outside the window
Easy to operate with a pull of the cords when you need to adjust light and privacy
Variety of styles and need not choose timber/wooden blinds which is high maintenance
PVC is available in wooden prints
Easy to match colours because the slats and tape can be custom to your liking
Disadvantages of PVC Venetian Blinds
Can get difficult to pull up if the blinds is quite heavy
Heavy set of blinds will require a gear system which is better but more costly
May be confusing for guests to operate
Takes time to clean each slat top and bottom surfaces
Advantages of Wooden Venetian Blinds
Natural, real wood feel and style
Variety of wooden styles
Advantages of Wooden Venetian Blinds
Susceptible to bloating from moisture overtime
Not very suitable for environment with high humidity
Pros & Cons of Roller Blinds
Advantages of Roller Blinds
Very simple to operate which is almost foolproof
Easy to maintain and clean one piece of blind as a whole
Streamline and slim profile for small or tight spaces
Suitable for minimalist home and office
Available in blackout option for bedrooms
Disadvantages of Roller Blinds
Have to take some time to pull the blinds to where you want when compared to Venetian, Perforated or Korean blinds where you can just adjust minimally
May make you feel cooped up due to the straight design and blocking of light
If you require more than 2 set of blinds for a single window, there will be light leakage at the gap from the tube bracket
Pros & Cons of Perforated Roller Blinds
Perforated Roller Blinds are just Roller Blinds but with perforation.
Advantages of Perforated Roller Blinds
Let natural light in all day while keeping room cool
Privacy from all external eyes while letting you see what's going on outside during the day
Serves as a space divider
Easy to maintain and clean
Disadvantages of Perforated Roller Blinds
Not suitable to use alone for bedroom
See through at night when lights are turned on so you'll have to layer with blackout blinds or curtains
Pros & Cons of Korean Blinds
Advantages of Korean Blinds
Easy light filtering with alternating translucent and opaque panels
Full day time privacy with sheer panels acting as shade
Control view by rolling up and down like roller blind
Low effort to maintain and clean just dust or vacuum every few weeks
Easy to match most interior design styles
Commonly dim out, but there's also blackout option available
Available into multiple colours which is why they are sometimes called Zebra or Rainbow blinds
Flat profile
Lightweight
Easy to operate
Disadvantages of Perforated Roller Blinds
Low view of what's going on outside as panels are alternating
Not fully blackout – same as most blinds
Can be prone to snagging due to the holes for perforation
Have to adjust to opaque panels during the night otherwise can become see through
Will have some level of light leaks
Pros & Cons of Roman Blinds
Advantages of Roman Blinds
Contemporary style which is regaining popularity
Fabric is able to block out light in the bedroom
Available in sheer fabric (shade for light filtering during the day
Lightweight for operation
Disadvantages of Roman Blinds
Thick and takes up quite an amount of space when you pull the whole blinds up
No option to to filter light you'll have to pull up completely to let light or look outside
Pull cord may be a safety hazard for pets or young children
May be prone to breakage if wrongly operated
Pros & Cons of Vertical Blinds
Advantages of Vertical Blinds
Great for large panel of windows making it look elegant
Good at light filtering
Able to control the amount of light by adjusting the vertical slats
Control privacy you need
Doesn't accumulate much dust
Suitable with sliding doors
Disadvantages of Vertical Blinds
Moves along the floor so the surroundings should not have any thing placed to avoid obstruction during operation
Not suitable for narrow or small windows due to its profile
Not black out because the slats naturally do have some gaps
Wind can cause the slats to clash together, making noise
Which type of blinds are the easiest to clean?
In order of level of difficulty:
Vertical blinds: Lesser mechanism and in whole piece as each slats makes it easy to maintain by wiping with damp cloth, light vacuuming or dusting.
Roller blinds: Second because it's a whole piece of blind fabric but will require some care because if you tug on it or over roll, it can become wavy or uneven. Light vacuuming or dusting every few weeks. Can also use damp cloth to wipe down the blind.
Venetian blinds: The materials of venetian blinds are quite sturdy and durable so cleaning it is easier. Vacuum or wipe with damp cloth every few weeks. If the slats are not open that often, the slats will not trap that much dust.
Roman blinds: Consists of mainly fabric and when combined with the folds, it can collect or trap dust more when compared to the other blinds. Maintain regularly by vacuuming or dusting.
Timber/Wooden Venetian blinds: Having wood as the real material will require more care during cleaning because they can bloat when in touch with too much water. It's best to use vacuum or wipe with damp-almost-dry cloth instead of wet cloth.
Comparison to Curtains
Curtains Benefits
Safe for small children as there's no cord to pull
Ensures maximum light block out as it will overlap in the centre and more to the sides of the window
Soft look for home aesthetics
Easy to wash and clean as you can just take it down and for gentle machine wash (not for blackout curtains!)
Heavy weight night curtains are good for dampening noise if you live near the roads or at a busy corridor
Allows air circulation with no noise when windows are open
Curtains Cons
Require more frequent maintenance for people who are sensitive to dust mites or pet hair
Bigger / thicker profile than blinds
No control over light filtering compared to blinds unless you layer day & night curtains
More susceptible to stains and mould growth as fabric can retain moisture in the environment
How Do You Choose? Curtains or Blinds?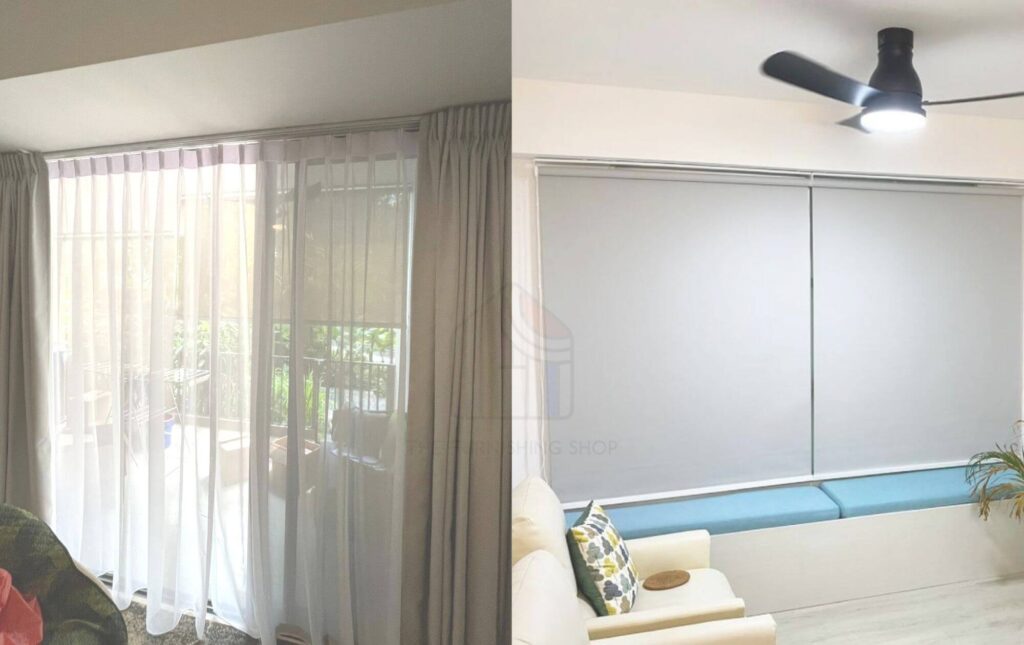 Budget concerns:
Generally, blinds will cost more when compared to curtains. Take a look at our comparison article on how much do custom made curtains cost.
If you have wide and tall windows and a budget concern, we usually recommend curtains rather than blinds. If you don't, opt for blinds because it can improve the room's aesthetics drastically.
Aesthetics:
Both can be custom made. However, blinds can match a much more minimalist home with its lean, simples lines. Curtains will provide a warm and soft feel while blinds provide a clean and cool feel.
Space of the room:
If your room is very small, it will not be ideal to get thick curtains. Instead, you can opt for blackout roller blinds because of its slim profile.
However, if the window to wall space is very tight, we recommend using curtains as it will provide more coverage than blinds.
Function of the room:
Is it a bedroom? Does it have wide (width) windows?
If your bedroom have wide windows, blinds are not very ideal as you will require multiple sets of them. There will be light leaks due to the gap in-between the blind brackets. We would recommend you to opt for a set of curtains instead.
We recommend blinds for bedrooms with windows not more than 2.5m width. Study rooms, kitchen and living rooms also work well with blinds.
Room type:
Curtains will not work that well in the kitchen because it can retain the smell and moisture from your cooking and washing.
In the kitchen, perforated blinds would be a better option.
In the living room, both types of window furnishings would work but it will also depend on the above.
Conclusion Of The Pros And Cons Of Different Window Treatments
Now that you have discovered the benefits and drawbacks of different blinds, I'm sure you have a better idea of what to install for your different rooms. Commonly, our customers would choose curtains in the master bedroom and blinds for their other rooms. What would you choose?
If you have decided, drop us a message and let us know how we can help you! We always provide free estimated quote and free on-site measurements with no obligations.