Perforated Outdoor Blinds To Block Rain and Provide Shade
Outdoor blinds provides your balcony or porch with shade and privacy. It also helps to prevent these area from getting wet when it's raining.
These perforated blinds are commonly used in service yard, balcony, porch, restaurants, or  offices. 
Material
30% Polyester and 70% PVC. 5% Openness perforated roller blinds.
Characteristic
Blocks out rain and prevents neighbour from peeping in.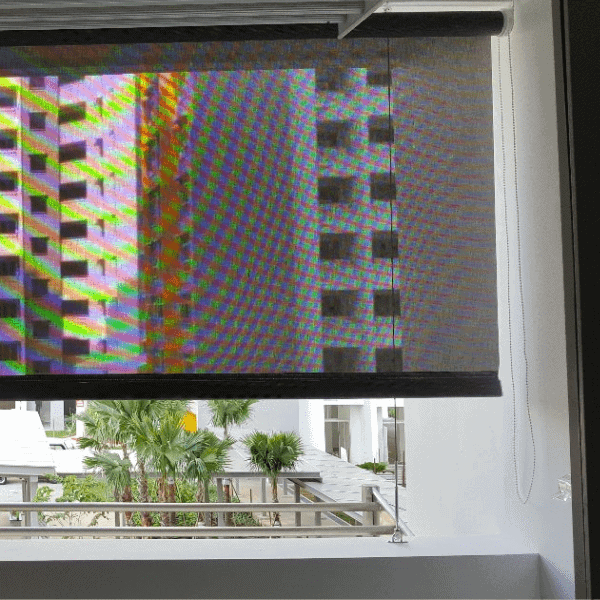 Features
Light & privacy control. Protects your furniture. Blocks out harsh sunlight.
Should You Get Outdoor Blinds?
For most homeowners and businesses, installing perforated outdoor blinds is more affordable when compared to Zip Track blinds.
When it comes to perforated outdoor roller blinds, there are two main functions which comes to mind: Blocking out rain & Privacy.
Outdoor Blinds to Block Out Rain
For balconies, outdoor blinds can block out a huge volume of rain water and harsh sunlight so that your home can stay mostly dry and your furniture protected from elements.
An even better choice would be Zip Track Outdoor Blinds.
*Note that a set of wind guard is required for each set of outdoor blinds. Wind guard is a piece of steel guard that keeps your blind in place to prevent it from flying around or falling off.
Outdoor Blinds For Privacy
Service yards and balcony are places where your neighbours can look into your home. 
Our customers told us that they have felt uncomfortable when they were just in the kitchen, service yard, living room or balcony when they saw their neighbours looking at them. 
Having perforated outdoor blinds can help resolve this issue. 
Outdoor blinds are a great option for most home owners and businesses.
Outdoor blinds are great in BTO service yards or kitchen when you live in close proximity of your neighbours. Yet, you don't wish to compromise on the day light in your home.
How To Care For Your Outdoor Blinds?
Outdoor blinds require very minimal care since the rain takes care of it. To clean your outdoor blinds. you can use mild soap and water. 
Ready To Get Your Outdoor Blinds?​
Drop us a message to get the best solution for your outdoor blinds
Benefits Of Using Outdoor Blinds
Interested in Outdoor Blinds?
Drop us a message on what you need and we will provide you with the best privacy solution!