HDB BTO Curtains & Blinds
Are you here to seek out a deal for your new BTO flat?
Join your estate in enjoying a special deal here.
Get free advice and estimated quote with us now!
What's The Curtains & Blinds Deal?
What's The Curtains & Blinds Deal?
We are offering our best deal for new BTO homeowners. All BTO package includes dimout night curtains with track for all rooms. If you are looking to have privacy at your new home, this is the most basic setup you should have!
New homeowners are highly encouraged to get curtains or blinds for their home. Because BTO flats are built close to neighbouring flats. And at the same time, windows are wide and tall which makes it easy for your neighbours to look into your home. You are not only losing privacy but also security of your home as others can see what you have!
Curtain Package Singapore
Standard curtain package for BTO flats (some estates may vary):
3 Room: $490
3 Room (with L-shaped window in MBR): $580
4 Room: $640
4 Room (with L-shaped window in MBR): $710
5 Room: $760
5 Room (with L-shaped window in MBR): $820
Our standard package includes:
85%-95% Dimout curtains only
Free Curtain Tracks
Installation & Delivery
Full width and height curtains
Free upgrade to blackout curtains for master bedroom (straight windows only)
Free upgrade to roller blinds in bedrooms
Upgrades & Add-Ons (some estates may vary):
Day Curtains: +$150 per area
L-shaped Master Day Curtains: +$180 per area
Standard Master Bedroom Blackout Curtains: FREE Upgrade
L-shaped Master And Other Rooms Blackout Curtains: +$150 per area
Bedroom Roller Blinds: FREE Upgrade
Living Room Roller Blinds: +$120 per set
Korean Blinds/Blackout Korean Blinds/Venetian Blinds: +$180 per set
Wooden Rod: +$80 per area
Curtain package in Singapore can be confusing so just drop us a text via WhatsApp and we will be able assist you immediately.
Tampines GreenFoliage BTO
Works great when layered with night curtains for your bedrooms and living room.
Light dim out night curtains can pass through light during the day.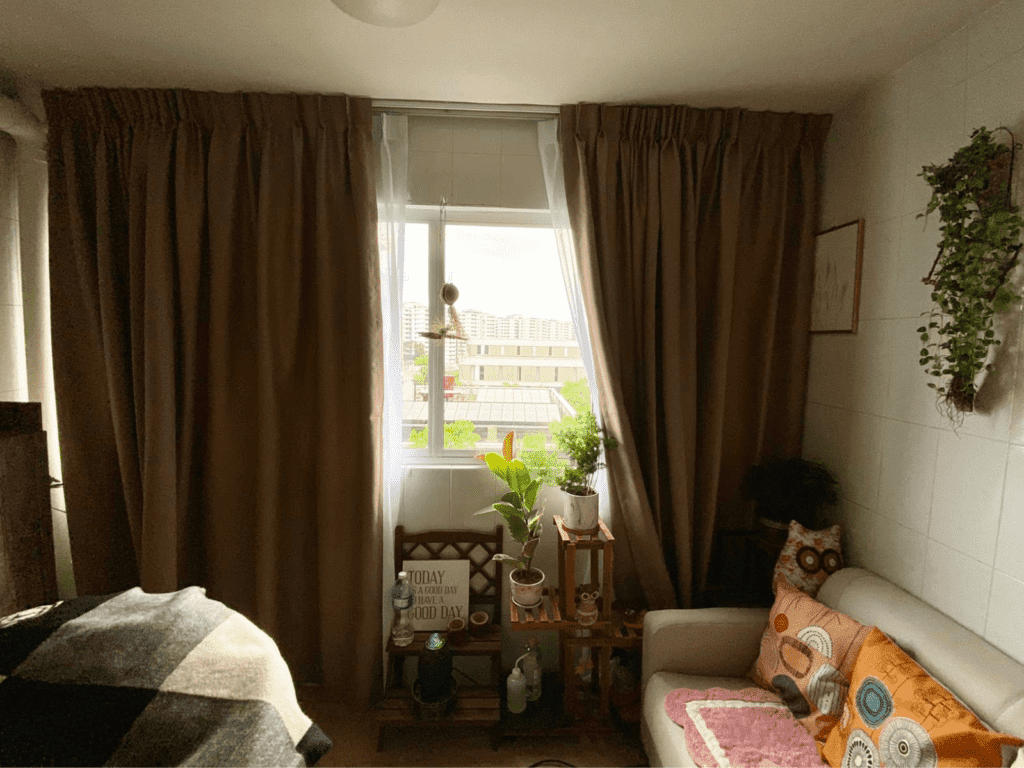 Most of our customers choose this to get high privacy control & to sleep well at night.
Gives you maximum privacy and light blockage for a good and deep sleep.
Gives you maximum privacy & high level of darkness at night. 
The "wabi sabi" blinds. Doesn't compromise on your privacy in the night. 
 High levels of privacy & light control. Great for living & study rooms.
Lightweight and allows you to control your privacy and lights.
Gives you privacy during the day in your service yard, kitchen or living room.
Classic cascading Roman blinds with a variety of fabric options.
Weatherproof and protects your place from harsh sunlight and rain.
Blocks out rain, wind, dust and insects. Keeps your balcony clean & safe!
Want to get free quotation?
WhatsApp us to get free advice & your BTO curtain and blinds deal price!
Frequently Asked Questions
Curtains & Blinds Consultation
Nope, you enjoy GST free transactions when you use our services as we are not GST registered at the moment.
Payment can be in the forms of: cash, PayNow, cheque, bank transfer, credit card (via Stripe) and debit card (via PayPal).
Please note that for credit card (Stripe) or debit card (PayPal) payment, a 3% fee will be charged to your invoice.
For cheque payment, we only accept it for deposit. It is not accepted during balance payment. Note that there may be delay due to cheque processing time.
We encourage direct payment via PayNow or cash to ensure you receive your curtains and blinds promptly.
You can also earn GrabPoints when you pay via PayNow using your Grab app!
You will have to pay a 50% value of your invoice as deposit before production can commence. The balance 50% should be made upon installation. 
Curtains & Blinds Maintenance
We are coming up with a maintenance page soon. At the meantime, you can ask our consultant during your appointment or message our customer service team.
Drop us a message on WhatsApp (+65 9233 9498) and our team will assist you right away on our next action.
You can visit our Contact Us page and submit an inquiry form to us.
Alternatively, you can drop us an email at sendhelp@thefurnishingshop.com; or call or WhatsApp us at +65 9233 9498.
We will attend to you within 12-24 hours.
The following Terms & Conditions apply to the HDB BTO Deal promotion organised by FURNISHING SHOP LLP (hereinafter referred to as "The Furnishing Shop").
In addition to our general terms & conditions, specific terms & conditions will apply to this deal.
This group buy is entitled to orders of curtains & blinds for the entire house (service yard not required). For example, if you own a 4 room BTO, all four rooms must be worked on. Promotion is invalid for non-full home orders.
All onsite quotations are nett, with no GST charges.
Due to the nature of customisation, the total invoice amount would differ for each homeowners due to the specifications, materials and type of products chosen.
In order to qualify for the promotion, homeowner must enter their real name and address during sign up.
This deal is only valid in isolation, not in conjunction with any other promotions, discounts or vouchers. In the event where there are two or more ongoing promotions, the homeowner is only entitled to one promotion, discount or voucher, whichever he/she deems most appropriate.
Promotional products are subject to in-store stocks' availability.
To the maximum extent permitted by applicable law, The Furnishing Shop reserves the right, at its sole discretion to amend, withdraw or revise these terms and conditions and the gifts at any time without prior notice and in such event, The Furnishing Shop shall not have any liability whatsoever.